You love them.
Adore them.
Want to spend the rest of your life with them.
And now you want a way to tell them.
Thankfully, there are hundreds of beautiful "I love you forever quotes" that can serve that purpose perfectly!
Want a selection of the best? Here are 100 of our favorite forever love quotes.
---
---
Interested In Quotes About Forever Love? You Might Also Like These…
---
Best Forever Love Quotes
Let's kick things off with 20 of the best love you forever quotes we could find. Get ready for a mixture of cute, heart-warming, memorable, and engaging forever love quotes!
"You have bewitched me, body and soul, and I love, I love, I love you." – Jane Austen

"Listen, I love you. You make my world. And I'm here for you now, and forever. I'm here." – Pat Pace

"Gifts are temporary and often forgotten; love is forever and always remembered." – Ken Poirot

"With all my heart, and all my soul, I will love you till the winds don't blow. Until the oceans turn to stone, my love is yours and yours alone. My love is forever, until forever's gone." – Kenny Rogers

"I don't know how many nights remain to us, but I know I want to spend them all with you."




– Nenia Campbell

"Love is like a friendship caught on fire. In the beginning a flame, very pretty, often hot and fierce, but still only light and flickering. As love grows older, our hearts mature and our love becomes as coals, deep-burning and unquenchable." – Bruce Lee

"I love you, and I will love you until I die, and if there's a life after that, I'll love you then." – Cassandra Clare

"You are stuck with me till the world falls to pieces, and if we're not still standing even then we'll still find a way to be together…" – Ottilie Weber

"Maybe I'm too late to be your first. But right now I'm preparing to be your last." – Mr. Sid

"When you realize you want to spend the rest of your life with somebody, you want the rest of your life to start as soon as possible." – Nora Ephron

"I would rather spend one lifetime with you, than face all the ages of this world alone." – J.R.R. Tolkien

"I'll love you until the last breath leaves my body and my heart no longer beats." – Alex Grayson

"If there ever comes a day when we can't be together, keep me in your heart. I'll stay there forever." – A.A. Milne

"Dumbledore watched her fly away, and as her silvery glow faded, he turned back to Snape, and his eyes were full of tears."After all this time?" "Always," said Snape." – J.K. Rowling

"Once upon a time there was a boy who loved a girl, and her laughter was a question he wanted to spend his whole life answering." – Nicole Krauss

"Love is patient, love is kind, and what our love expresses is true. No amount of tragedy can tear, or break the love I have for you." – Jessica Wheaton

"If you live to be a hundred, I want to live to be a hundred minus one day so I never have to live without you." – A.A. Milne

"What we once enjoyed and deeply loved we can never lose, for all that we love deeply becomes part of us." – Helen Keller

"As we grow older together, as we continue to change with age, there is one thing that will never change. I will always keep falling in love with you." – Karen Coldfelder

"I seem to have loved you in numberless forms, numberless times, in life after life, in age after age forever." – Rabindranath Tagore
---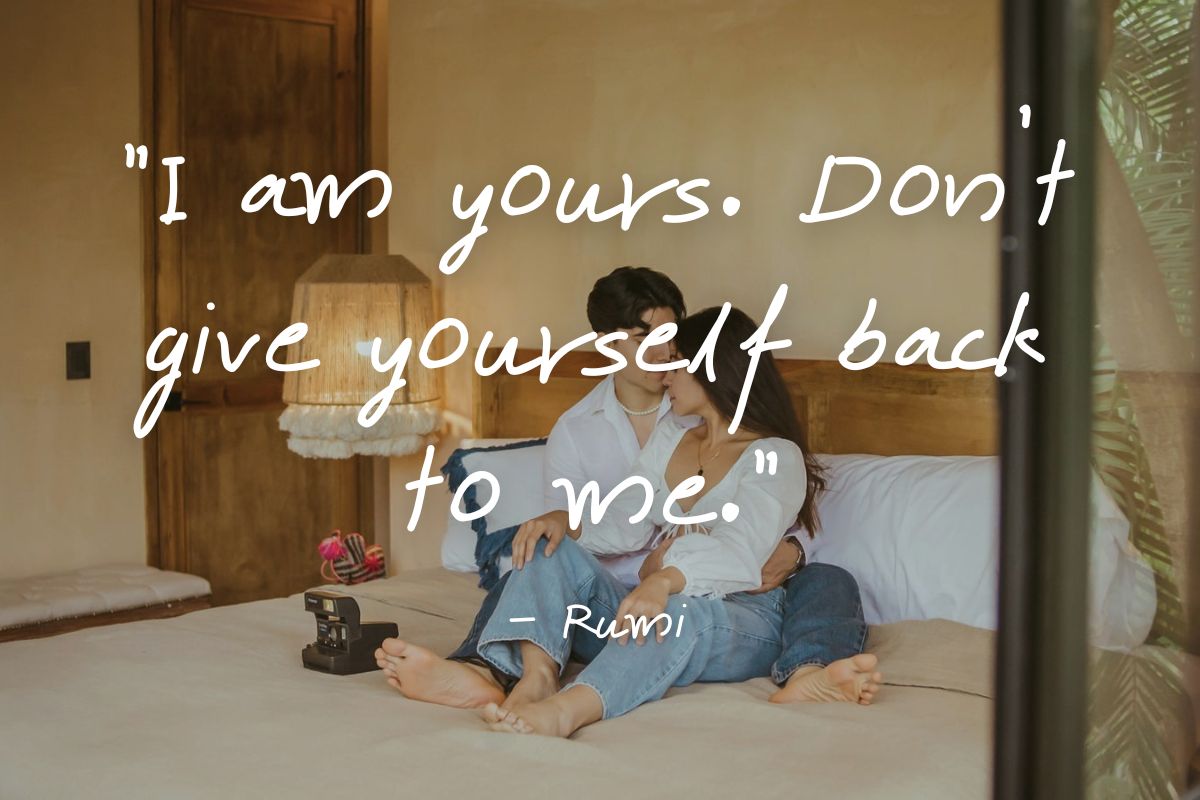 Short I Love You Forever Quotes
Sometimes less is more when you're trying to tell someone you love them. In this section, we're going through 20 short "I love you forever quotes" that are perfect when you want to say a lot with a little.
"I am yours. Don't give yourself back to me." – Rumi

"You are my today and all of my tomorrows." – Leo Christopher

"If I know what love is, it is because of you." – Hermann Hesse

"I have found the one whom my soul loves." – Songs of Solomon 3:4

"For this moment and forever, you are my love." – Debasish Mridha

"Forever is never long enough when it's spent with you." – Unknown

"I will love you truly forever and a day." – William Rose Benét

"There is no remedy to love but to love more." – Henry David Thoreau

"Love is composed of a single soul inhabiting two bodies." – Aristotle

"Friendship is the start to what you call love." – Abraham Lincoln

"When you love, let it be a woman whom you can love forever." – Honoré De Balzac

"Until every last star in the galaxy dies. You have me." – Annie Kaufman

"Each time you love, love as deeply as if it were forever." – Audre Lorde

"Everything we are, together, is what we're meant to be." – Frances De Pontes Peebles

"He is not a lover who does not love forever." – Euripides

"I am in you and you in me, mutual in divine love." – William Blake

"You may hold my hand for a while, but you hold my heart forever." – Nicole Louise Divino

"If love never lasts forever, then what's forever for?" – Michael Murphy

"I can't promise you forever, because that's not long enough." – Jason Dorsey

"You are my heart, my life, my one and only thought." – Arthur Conan Doyle
---
Poetic Quotes About Forever Love
Some of our favorite quotes about forever love are beautiful, romantic, and poetic in nature. Here are 20 of them:
"In all the world, there is no heart for me like yours. In all the world, there is no love for you like mine." – Maya Angelou

"I loved you yesterday, I love you still, I always have, and I always will." – Tim Walters

"In a world full of temporary things, you are a perpetual feeling." – Sanober Khan

"The only magic I ever really made was the love I had with you." – Eden Butler

"Love is indestructible, Its holy flame forever burneth; From heaven it came, to heaven returneth." – Robert Southey

"If I had a flower for every time I thought of you…I could walk through my garden forever." – Alfred Tennyson

"Home is my heart in your hands, and yours in mine. Nothing will ever change that." – T.A. Chase

"Forever in my heart is where you will be. Nobody else will enter because you have the only key." – Adrian Jackson

"Every heart sings a song, incomplete, until another heart whispers back. Those who wish to sing always find a song. At the touch of a lover, everyone becomes a poet." – Plato

"I have seen your dark nights and your brightest days and I will be here with you forever waiting in your dusk." – Atticus

"Since you are gone, I collect the stars each night – building my own night sky, so I have something to hold onto forever." – Laura Chouette

"Love is not written on paper, for paper can be erased. Nor is it etched on stone, for stone can be broken. But it is inscribed on a heart and there it shall remain forever." – Rumi

"I'll love you forever, I'll like you for always, as long as I'm living, my baby you'll be." – Robert Munsch

"When you find the person that can see you, you don't let go." ― Anyta Sunday

"What are the chances you'd ever meet someone like that? he wondered. Someone you could love forever, someone who would forever love you back? And what did you do when that person was born half a world away? The math seemed impossible." – Rainbow Rowell

"You have captured my soul in a cocoon of love. My heart will be forever yours." – Shae-Lynn Bourne

"I don't need the stars in the night I found my treasure All I need is you by my side so shine forever." – John Keats

"I was made and meant to look for you and wait for you and become yours forever." – Robert Browning

"You showed me what love was, and I saw "My Forever" in your eyes." – Sreena KS

"Even before we met and long after we're both gone, my heart lives inside of yours. I'm forever and ever in love with you." – Crystal Woods
---
Insightful Love Forever Quotes
In researching this article, it soon became apparent that many "forever love quotes" can teach you a thing or two about love itself. Here are 20 of the most insightful ones we came across:
"The person who does not decide to love forever will find it very difficult to really love for even one day." – Pope John Paul II

"Forever is a measure of time used by people who share an ordinary love. Our extraordinary love is immeasurable … for us, forever just won't do." – Steve Maraboli

"They say that nothing lasts forever, but I am a firm believer in the fact that for some, love lives on even after we're gone." – Nehali Lalwani

"The best love is the kind that awakens the soul and makes us reach for more, that plants a fire in our hearts and brings peace to our minds. And that's what you've given me. That's what I'd hoped to give you forever." – Nicholas Sparks

"Love encompasses two wild imaginations, dreaming of what a life together could be." – Krystle Kotara

"You fall in and out of love, but when you really love someone…it's forever." – Sophie Kinsella

"There'll always be a Jack, there'll always be a Rose and a Heart that'll always Go On and On." – Aditya Bisht

"To love abundantly is to live abundantly, and to love forever is to live forever." – Henry Drummond

"I knew why love was always described with eternity. A single minute stretched out for lifetimes." – Shannon A. Thompson

"I saw that you were perfect, and so I loved you. Then I saw that you were not perfect, and I loved you even more." – Angelita Lim

"You come to love not by finding the perfect person, but by seeing an imperfect person perfectly." – Sam Keen

"Souls bound together can't be forever torn apart by distance and neither by death." – Patti Callahan Henry

"If you love something let it go free. If it doesn't come back, you never had it. If it comes back, love it forever." – Douglas Horton

"The Cycle of True Love: First I see and think I love, then I say I know I love, today and forever more I decide to love." ― Michael Sweeney

"True Love doesn't happen right away; it's an ever-growing process. It develops after you've gone through many ups and downs, when you've suffered together, cried together, laughed together." – Ricardo Montalban

"Giving someone a piece of your soul is better than giving a piece of your heart. Because souls are eternal." – Helen Boswell

"Our joy now and forever is inextricably tied to our capacity to love." – John H. Groberg

"Love withers with predictability; its very essence is surprise and amazement. To make love a prisoner of the mundane is to take its passion and lose it forever." – Leo Buscaglia

"In dreams and in love there are no impossibilities." – Janos Arany

"What greater thing is there for two human souls than to feel that they are joined to strengthen each other, to be at one with each other in silent unspeakable memories." – George Eliot
---
I Love You More Quotes
"I love you." "I love you more." "No, I love YOU more!" As cheesy as it is, most of us have had exchanges like this at some point in time! Here are 20 "I love you more quotes" that offer a novel way of expressing the same soppy sentiments:
"I never want to stop making memories with you." – Pierre Jeanty

"I just want you to know that I love you with everything I am—a million times a million and to the moon and back." – Laura Miller

"Every cell in my body was telling me that he was my happily ever after." – CJ English

"You are the finest, loveliest, tenderest, and most beautiful person I have ever known – and even that is an understatement." – F. Scott Fitzgerald

"You know you're in love when you can't fall asleep because reality is finally better than your dreams." – Dr. Seuss

"Love is like the wind, you can't see it, but you can feel it." – Nicholas Sparks

"Nobody has ever measured, not even poets, how much the heart can hold." – Zelda Fitzgerald

"As he read, I fell in love the way you fall asleep: slowly, and then all at once." – John Green

"I love you without knowing how or when or from where. I love you simply, without problems or pride." – Pablo Neruda

"Words cannot express how much I love you. You are my love, now, and forever." – Jensen Wee

"I love you as certain dark things are to be loved, in secret, between the shadow and the soul." – Pablo Neruda

"You know it's love when all you want is that person to be happy, even if you're not part of their happiness." – Julia Roberts

"I will love you with all my heart, To have forever – never to part. This is a promise engrained in me, Take my hand and let it be." – Diana Lynn

"I love you neither with my heart, nor with my mind. My heart might stop, my mind can forget. I love you with my soul because my soul never stops or forgets." – Rumi

"He is more myself than I am. Whatever our souls are made of, his and mine are the same." – Emily Brontë, 'Wuthering Heights.'

"Walking with your hand in mine and mine in yours, that's exactly where I want to be forever." – Fawn Weaver

"If we'd never met, I think I would have known my life wasn't complete. And I would have wandered the world in search of you, even if I didn't know who I was looking for." – Nicholas Sparks

"A first love is something that lasts forever in your heart. It's something that marks you." – Elodie Yung

"If a hug represented how much I loved you, I would hold you in my arms forever." – Nicole Louise Divino

"When you're in love, you're capable of learning everything and knowing things you had never dared even to think, because love is the key to understanding of all the mysteries." – Paulo Coelho
Don't Forget These Love You Forever Quotes
"Love you forever quotes" are ideal when searching for words to express your love for a special someone.
You can write them a letter with forever love quotes inside. Or, if you post a picture of them on social media, you can include the quotes in the caption.
Whatever you needed them for, I hope this list of "love forever quotes" has been useful. Why not check out these quotes about missing your girlfriend next?