As the always-funny American author David Sedaris so aptly said:
"No amount of physical contact could match the healing powers of a well-made cocktail."
Indeed, cocktails are an antidote to the dullness of everyday life!
They easily top beer and wine – or any drink, really – in colour, fun, and creativity. No wonder we want to write about them and people want to read about them!
Are you trying to find some awesome cocktail quotes and captions?
Then this post is for you. Check out this super-long list of 145+ quotes all about our favourite Friday night tipples.
---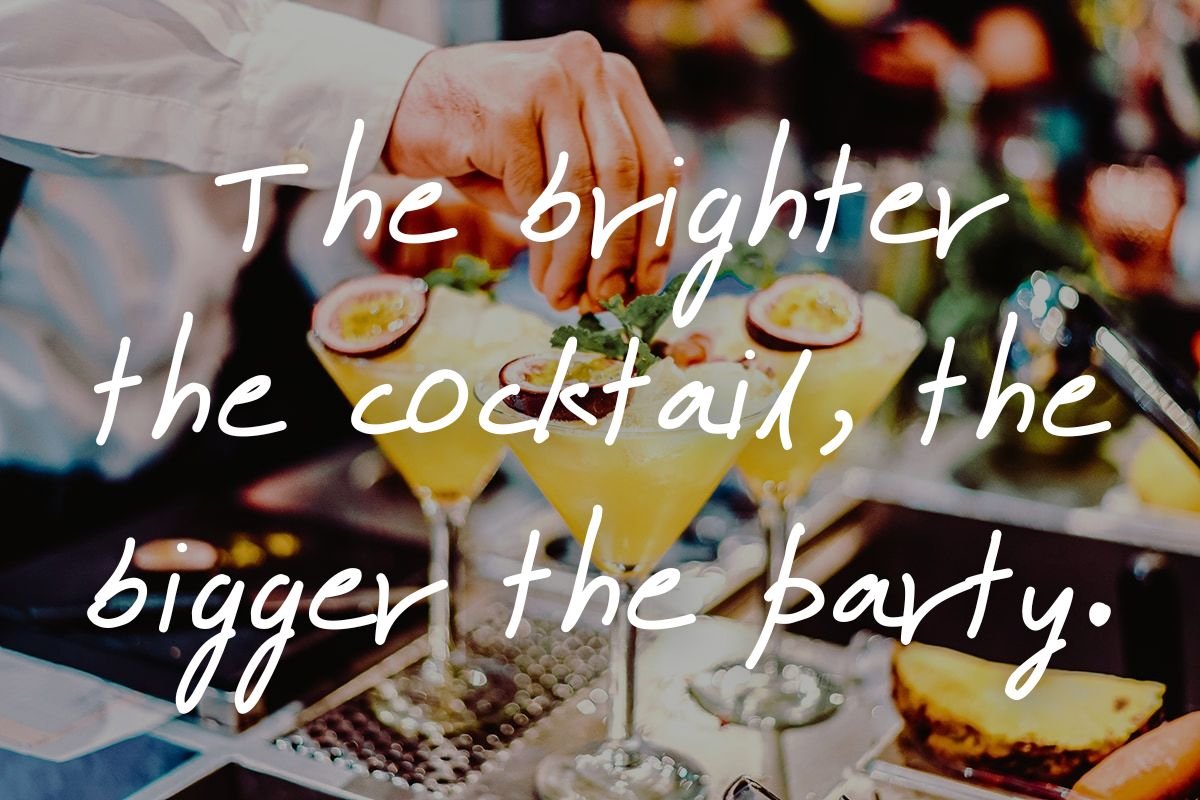 ---
Looking For Cocktail Quotes? You Might Also Like These…
---
Cocktail Captions That Bring the Party
1. The brighter the cocktail, the bigger the party.
2. You gotta fight for your right to have a cocktail party.
3. Cocktails at home: bring the party to you!
4. Life's a party, so mix that cocktail!
5. Teach yourself how to make a good cocktail, and you'll always be ready to party.
6. Cocktail = party.
7. A party without a Martini is just a meeting.
8.
9. A good cocktail IS the party.
10. Party, party, party! Cocktail, cocktail, cocktail!
11. Looking to have a fancy party: make cocktails.
12. Party like it's the 1920s: drink a Singapore Sling.
13. Party like it's the 1980s: get that Piña Colada.
14. Sip and party.
15. Party like it's the 2000s: order a Cosmopolitan.
16. Still partying at 9 am? Bring on the Bloody Marys!
17. There's never a better time than now for a cocktail party.
Funny Cocktail Quotes and Captions
18. It's called an Old Fashioned for a reason.
19. "Sure, I eat Wheaties for breakfast. A good bowl of Wheaties with bourbon can't be beat." — Dizzy Dean
20. Sip happens.
21. ALEXA, pour me a drink, stat.
22. Mouth, meet cocktail.
23. I wish someone would look at me like they're looking at their Long Island Iced Tea.
24.
25. Size matters! The bigger the cocktail, the better.
26. Friday called. She's bringing cocktails!
27. "Can't we just get rid of wine lists?" — Jerry Seinfeld
28. Pretty fly for a Mai Tai.
29. Eat, sleep, cocktail. Repeat.
30. Don't cry over spilled White Russian.
31. Born to rum.
32. "Love makes the world go round? Not at all. Whiskey makes it go round twice as fast." — Compton Mackenzie
33. Always drink responsibly. And by that, I mean, don't spill any.
Cocktails Quotes From Books
34. "Anybody who monkeys around with gin and egg white deserves what he gets. I should have stuck with bourbon and have from that day to this." — Bourbon (1975), an essay by Walker Percy
35. "A real gimlet is half gin and half Rose's Lime Juice and nothing else. It beats martinis hollow." — the character Terry Lennox in The Long Goodbye (1953) by Raymond Chandler
36.
37. "Fill with mingled cream and amber,/I will drain that glass again./ Such hilarious visions clamber/ Through the chamber of my brain — from Great Tales and Poems (1951) by Edgar Allen Poe
38. "You will have to exercise moderation again, friend Fritz! I daresay it is delicious, but it will go to your head if you venture deep into your flask." — the character William Robinson in The Swiss Family Robinson (1812) by Johann David Wyss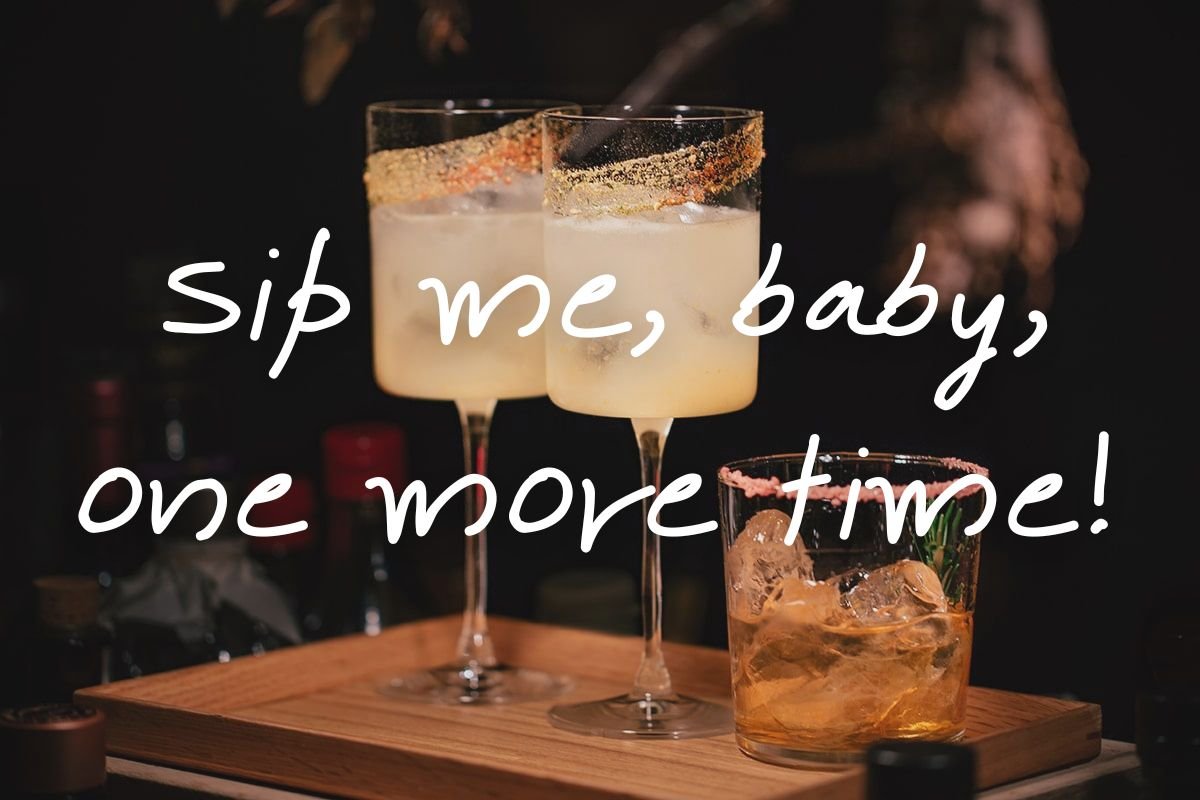 Use-Anywhere Cocktail Phrases
39. Sip me, baby, one more time!
40. We gotta power through 'til cocktail hour.
41. We go together like cocktails and Friday night happy hour.
42. Beer's for quitters: have a cocktail.
43. All you really need is a cocktail and a cat.
44. Keep calm and grab a cocktail.
45. Juice? The only juice I drink comes in a cocktail glass.
46. The weekend forecast? There's a 100% chance of cocktails.
47. I only work until cocktail o'clock.
48. Save water; drink cocktails.
49.
50. I'm on cloud cocktail. It's the best kind of cloud.
51. Cocktail hour vibes.
52. Cocktails are the answer to all the right questions.
53. I always make time for cocktails.
54. Sippin' and chillin'—it's my natural state.
55. Chillin' like a v… odka cocktail.
56. I have strong feelings about mixed drinks.
57. It's cocktail o'clock somewhere, right?
Classy Drinking Quotes and Phrases
58. Old and mellow, like a fine whisky.
59. Toes in the sand and a cocktail in the hand.
60. Keep your gin up!
61. Fancy drinks for fancy people.
62. "Here's to alcohol, the rose-colored glasses of life." — F. Scott Fitzgerald
63. Keep calm and grab a cocktail.
64. All you really need is a cocktail and a little black dress.
65.
66. All you really need is a cocktail and a 5-star hotel room.
67. Served with a twist… of lemon rind.
68. You are the gin to my tonic.
69. You are the whisky to my sour.
70. All you really need is a cocktail and a Rolex.
71. There's nothing bad about a martini [or insert any other type of cocktail here].
72. When life throws you lemons, pick them up, squeeze them, and use the juice to make a cocktail.
73. When life throws you lemons, use a few wedges for your gin and tonic.
74. Drink cocktails. They make other people more interesting.
75. Sit back, relax, and have a cocktail.
76. It's 5:00 somewhere in the world.
77. The best hour of the day is happy hour.
Seasonal and Holiday Drinks Quotes
78. Even my cocktail glass is getting into the holiday spirit.
79. Me ordering every cinnamon-flavored cocktail on the menu.
80. Sip, sip, hooray!
81. It's beginning to look a lot like cocktails.
82. Candy cane cocktails? Count me in!
83. I'm sleighing this Christmas party with my crafty cocktails!
84. Friends/Lovers/Partners who make cocktails together, sleigh together.
85.
86. Merry cocktails, everyone!
87. Enjoy a taste of heaven… in a cocktail glass.
88. Got resting Grinch face? A good cocktail will cure that.
89. Cheers, my reindeers!
90. There's snow place like the bottom of a cocktail glass.
92. 'Tis the season to drink cocktails.
92. I stopped drinking for good. Now, I only drink for evil.
93. Santa hat? Check. Cocktail in hand? Check.
Cocktail Quotes by Famous Authors
94. "It's 4:58 on Friday afternoon. Do you know where your margarita is?" ― Amy Neftzger
95. "Introverts don't see life as one big cocktail party. We're content with just a few meaningful relationships." — Jenn Granneman
96. "Pouring out liquor is like burning books." — William Faulkner
97. "Too much of anything is bad, but too much good whiskey is barely enough." — Mark Twain
98. "No amount of physical contact could match the healing powers of a well-made cocktail." — David Sedaris
99.
100. "Life is a crazy mixture of intoxicating cocktails." — Ken Poirot
101. "Hear no evil, speak no evil, and you won't be invited to cocktail parties." — Oscar Wilde
102. "I drink to make other people more interesting." — Ernest Hemingway
103. "If you want to do the best thing to keep from catching a cold, just stay in bed, and I'll order us each a lemonade and a whisky." — Ernest Hemingway
104. "Candy is dandy, but liquor is quicker." — Ogden Nash
105. "Sex and a cocktail: they both lasted about as long, had the same effect, and amounted to about the same thing." — D. H. Lawrence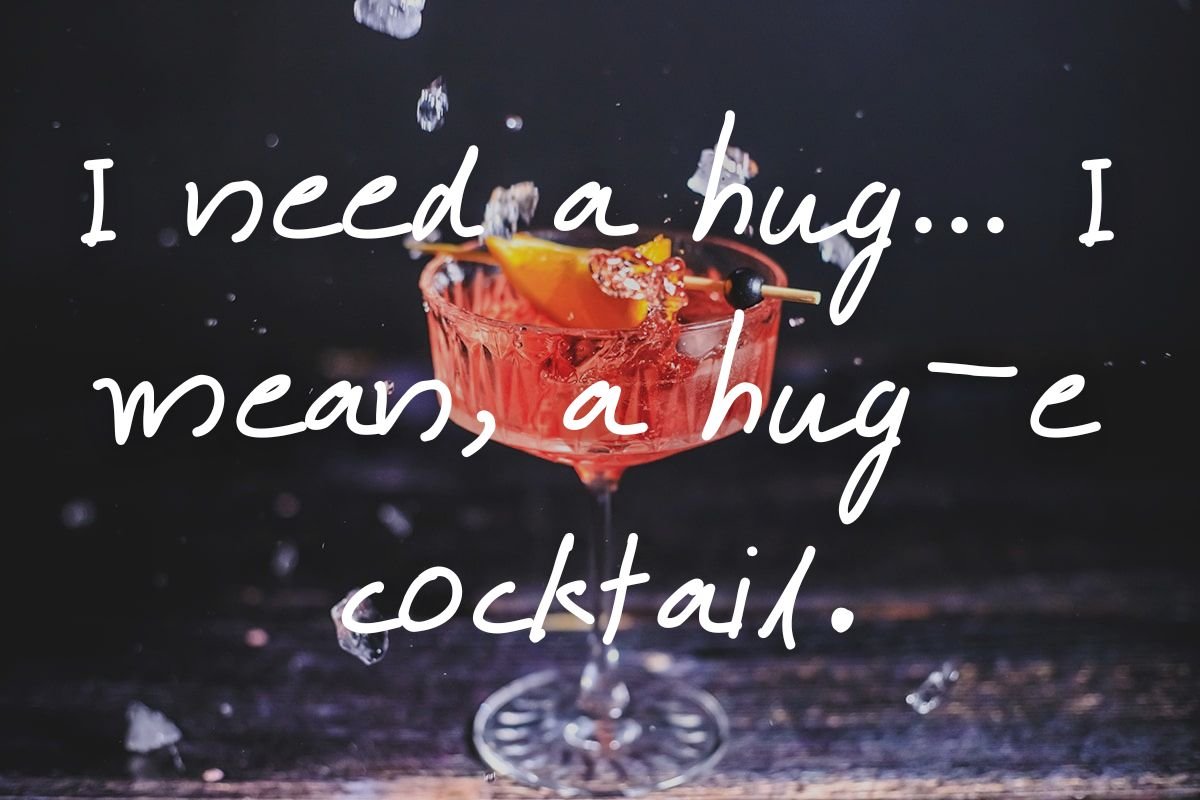 "I Need a Drink!" Quotes and Captions
106. I need a hug… I mean, a hug–e cocktail.
107. Cocktails are the liquid version of therapy.
108. Ugh, don't even ask; just make me a Cosmo.
109. Just sip back and relax.
110. There, there. There's nothing a cocktail can't solve.
111. There, there. Have another cocktail!
112.
113. What? I'm NOT drinking alone. I'm with the cat.
114. A cocktail a day keeps the real world away.
115. There, there. Here's a cocktail to soothe your sorrows.
116. Move over, beer. It's a cocktails kind of day.
117. Step aside, wine! This is a job for cocktails.
118. Tequila [or insert another spirit here] is cheaper than therapy.
119. "One martini is alright; two is too many, three is not enough." — James Thurber
120. I'm in need of liquid therapy.
TV Show and Movie Cocktail Quotes
121. "Do not allow children to mix drinks. It is unseemly, and they use too much vermouth." — Steve Allen
122. "Clear alcohols are for rich women on diets." — the character Ron Swanson in Parks and Recreation
123. "Gimme a whisky, ginger ale on the side, and don't be stingy, baby!" — Greta Garbo in the movie Anna Christie
124. "He knows just how I like my martini – full of alcohol." — the character Homer Simpson in The Simpsons
125. "One tequila, two tequila, three tequila, floor!" — George Carlin
126. "I am the world's last barman poet!" — the character Brian in Cocktail
127. "Shaken, not stirred." — James Bond
128.
129. "That's what I do. I drink, and I know things." — the character Tyrion Lannister in Game of Thrones
130. "You say potato; I say vodka." — the character Karen Walker in Will & Grace
131. "Vodka is kind of a hobby." — Betty White
132. "I love scotch. Scotchy, scotch, scotch. Here it goes down, down into my belly." — the character Ron Burgundy in Anchorman
133. "I drink too much. The last time I gave a urine sample, it had an olive in it." — Rodney Dangerfield
What Mixologists Say: Famous Bar Quotes
134. "If I had to live my life over, I'd live over a saloon." — W.C. Fields
135. Pull up a seat—you look like you need a drink.
136. "The hard part about being a bartender is figuring out who is drunk and who is just stupid."— Richard Braunstein
137. What'll it be?
138. The best thing about this bar is the cocktail in my hand.
139. "Show me how you drink, and I will tell you who you are." — Emile Peynaud
140. My relationship with whiskey is on the rocks.
141.
142. A cocktail is only as good as the bartender who made it.
143. "An ice-cold Martini is like the first sip of water for a desert strandee—nectar from the Gods." — Cas Oh
144. You know it's serious when the bartender is the one crying.
145. Of all the bars in all the world, this one serves my favorite cocktail.
146. "A bartender is just a pharmacist with a limited inventory." — Albert Einstein
147. You know you drink too many cocktails when the bartender knows your name.
148. Olive a good martini, bartender.
149. "Of all the gin joints in all the towns in all the world, she walks into mine." — the character Rick Blaine in Casablanca
---
Share the Cocktail Love and Puns
I get it: you're into cocktails! And you're not alone.
Given how devilish and delicious they are, you'd be hard-pressed to find someone who wasn't a fan.
Anyway, since sharing photos, videos, and other content about making and drinking cocktails is endlessly popular, this near-endless list of cocktail quotes should have you covered for your social planning for months (years?) to come!
Are you looking for more clever captions or quintessential quotes?
Take a look at the other articles on the site. This list of colour captions for Instagram could be a good place to start!