Did you know that over 350,000 bicycles are manufactured each day? And in 2021, dealers sold more than half-a-million motorcycles in the US alone!
There's nothing better than getting around on two wheels—whether you prefer people or motor-powered vehicles. The wind in your hair; the sky arching above you; the sun warming your face.
Bike enthusiasts are always seeking ways to express their love for bikes on your socials. And we've got you covered with the best biking captions for Instagram!
Check out this list of 152 brilliant bike captions and bike quotes for Instagram.
---
---
Looking For biking captions for Instagram? You Might Also Like These…
---
Captions and Quotes for Bicycle Enthusiasts
Arguably one of the best things about bicycling is that you get out in the fresh air while also hitting your cardio goals. It's no wonder you want to shout from the rooftops (or at least from the caption section of your Instagram or Facebook profile) about the sport!
Inspiring Quotes and Captions on Bikes
1. "Ride as much or as little or as long or as short as you feel. But ride." — Eddy Merckx
2. Rolling into the weekend like…
3. Summer means feeling the wind in your hair from a bike seat.
4. A good bike won't get you anywhere without the good vibes to go with it.
5. "One of the most important days of my life was when I learned to ride a bicycle." — Sir Michael Palin
6. Bikers gonna bike.
7. Cycling through life.
8. "Bicycling is a big part of the future. It has to be. There's something wrong with a society that drives a car to work out in a gym." — Bill Nye
9. Grip it and rip it.
10.
11. No day is complete without a bike ride.
12. A life without two wheels/a bike/a bicycle/cycling is no life at all.
13. "If I can bicycle, I bicycle." — Sir David Attenborough
14. Good vibes and good bikes.
15. Dreaming of bike riding.
16. I'm at my happiest with an open road and a bicycle.
17. "Whenever I see an adult on a bicycle, I have hope for the human race." — H.G. Wells
---
Funny (and Punny) Bike Captions
18. Check out these pedal pushers!
19. I wheelie love cycling/bicycles/bikes.
20. I wheelie love cycling adventures/races/trips/vacations.
21. Bike. Check! Bike-loving friends. Check! You're all set for a wheelie-good weekend.
22. This speedy/energetic/fast/long/death-defying/all-day bike ride is sponsored by coffee.
23.
24. The gas prices are too high! Get on yer bike.
25. A bike ride outside beats a Pelton/Spin class any day!
26. Yeah, I'm not addicted to biking. I can quit anytime I want. Really. I can.
27. I pedal; therefore, I am.
28. This isn't cyclist sweat. It's cyclist sparkle.
29. Feed the (cycling) machine.
30. I don't need a man/woman/girlfriend/boyfriend/cat/dog. I have a bike!
---
Travel Bike Captions and Bike Quotes for Instagram
31. "Heaven is not on Earth, but whoever rides a bicycle reaches it anyway." — Mauro Parrini
32. Biking my/our way through/across the city/state/country/world.
33. Just posting this pic while I take a sightseeing/water/coffee/swim break.
34. "Life is like riding a bicycle. To keep your balance, you must keep moving." — Albert Einstein
35. The #view/#scenery/#sight from this bike trail was too beautiful not to share!
36. Only the most daring bikers can get to this epic view!
37. #biketrailblazing
38. #offthebeatenbiketrail
39.
40. Beach sunrises, iced coffee, and cruiser bikes… it must be summer vacation!
41. Not all who wander are lost.
42. Taking the scenic route… on two wheels.
43. Planning a #roadtrip… on my bicycle.
44. "The bicycle is the noblest invention of mankind." — William Saroyan
45. Hitting the road… on my bicycle.
46. Can we not ride up/down that gigantic hill? Thanks.
47. What do you need to start a bicycle trip? That first pedal stroke.
48. "Nothing compares to the simple pleasure of riding a bike." — John Fitzgerald Kennedy
---
Biking Captions That Are Also Pick Up Lines
49. I enjoy long bike rides at the beach. It seems like you do, too!
50. First, we bike. Then, we get a drink together.
51. Do you want to ride a bike with me?
52. Weekends are for bike rides. Wanna ride on Saturday with me?
53. The best dates include a long bike ride. Agree?
54. Pump the breaks! You don't like bike riding?
55. Are you a car person or a bike person?
56. Do you prefer two wheels or four?
57. Can I help you pump your tires/test your brakes/change your gears?
58.
59. My interests include: bikes, bicycles, cycling, and you.
60. Shifting gears so I can get on your level.
61. Want to tackle some hills/ride the boulevard/take the mountain trail on two wheels with me?
62. My bike needs a girlfriend/boyfriend/partner. Want to join our cycling crew?
63. Two wheels, two people! Am I right?
64. I wheelie want to take you out on a date.
65. Did I just go over the handlebars? I'm head over heels for you!
---
Beginner Captions for Bike Lovers
66. They say you never forget how to ride a bike. Let's find out if that's true!
67. Get stylish; get a bike.
68. Get cool; get a bike.
69. Get smart; get a bike.
70. Get eco-friendly; get a bike.
71. Get frugal; get a bike.
72. Get fit; get a bike.
73. Save gas; get a bike.
74. Save the planet; get a bike.
75. Save the rainforest; get a bike.
76. Save your health; get a bike.
77. Born to cycle.
78. My goal for the summer/this year/today is to get my first bike.
79.
80. First ride on my #newbike
81. First ride on my #newbicycle
82. Pretty stoked to be on a bike right now!
83. It's my bike time. Sorry, not sorry.
84. It's my bike time. Leave a message, and I'll get back to you later.
85. Want to feel like a kid again? Get on a bike!
86. Life is like riding a bicycle. You need to keep moving to keep your balance.
87. The thing I've learned most from starting bike riding is… [insert your takeaways].
88. A good bike ride makes even the worst day better.
---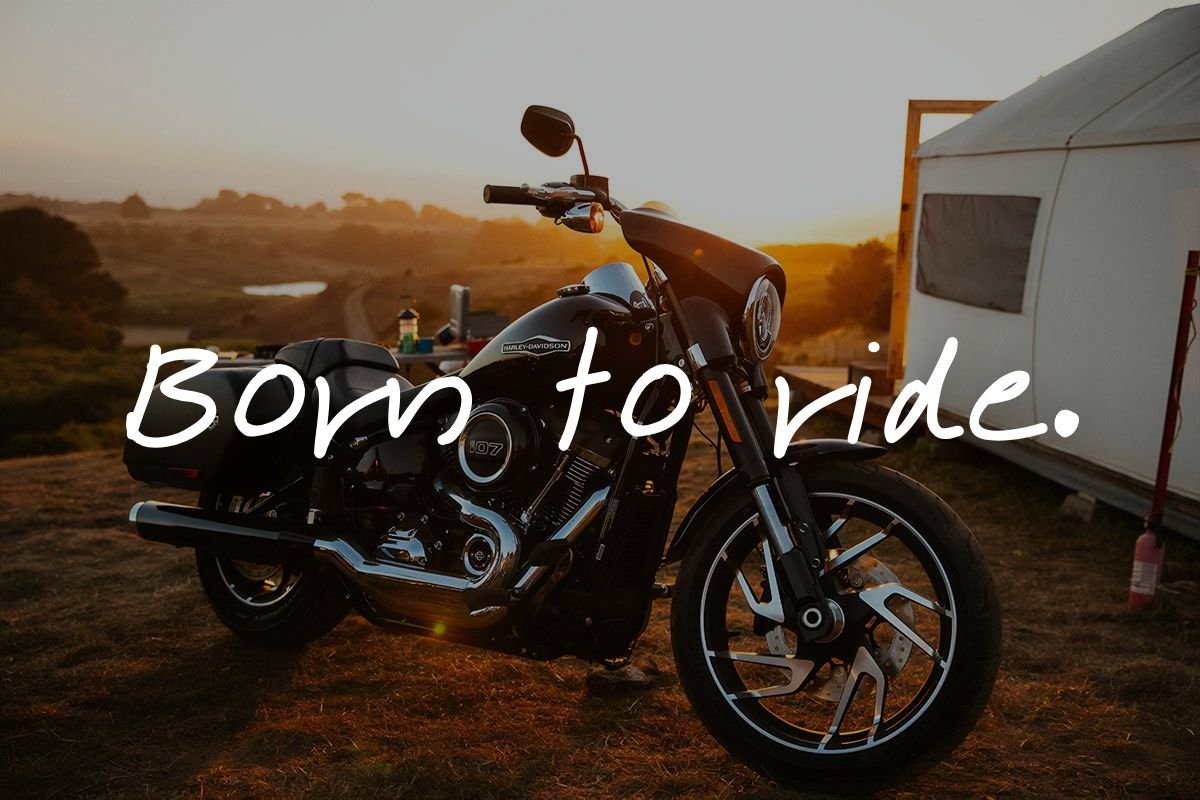 Captions and Quotes for Motorcycle Enthusiasts
Using your legs to power two wheels is one thing, but you can't really go that fast. If you want to satisfy your need for speed, it's time to invest in something with an engine.
And that means getting your leathers on and hitting the road on a motorcycle!
"Get Out There" (Motor) Bike Ride Captions and Quotes
89. Born to ride.
90. It's a glorious day for a ride.
91. Bike the road less taken.
92. "Riding a bike is like an art. It's something you do because you feel something inside." — Valentino Rossi
93. A bike on the road is worth a hundred in the garage.
94. Ride like there's no tomorrow.
95. No road is too long when you have a good motorcycle.
96. Everything looks better from behind the visor of a motorcycle helmet.
97.
98. A bad day on the back of a bike beats even the best day in the office.
99. Your motorcycle will never ask, "Are we there yet?"
100. Every day is a good day for a ride.
101. "You live more for five minutes going fast on a bike than other people do all their life." — Marco Simoncelli
102. You don't stop riding when you get old. You get old when you stop riding.
103. Riding a bike is a journey. Enjoy every minute of it!
---
Bike Riding Captions for Instagram: Motorbike Only
104. "You don't need a therapist if you own a motorcycle." — Dan Aykroyd
105. Living the motorbike life.
106. Bike to work and bike to play; bike tomorrow and bike today.
107. Just ride.
108. "I felt a real attraction for my first passion, which was the motorcycle. And in spite of the danger it represents, it encouraged me." ― Jacky Ickx
109. Different bikes, different styles, different roads.
110. Life would be boring without motorbikes.
111. Four wheels get you places. Two wheels move your soul.
112. I made my first adult purchase. Yep, it's a motorbike!
113.
114. You've got the bike. Now get out there and conquer the world.
115. Bike rides fix my mind.
116. Only real bikers get to do what they want, when they want and where they want.
117. "I look my best when I take my helmet off after a long motorcycle ride. I have a glow and a bit of helmet hair." — Eric Bana
118. Life is beautiful… from the back of a bike.
119. Life is beautiful… if you buy that bike.
120. Life is beautiful… if you get on that bike and go.
121. Life is beautiful… if you put on that bike helmet.
---
New Bike Quotes and Captions: Fresh Inspiration for Baby Motorcycle Owners
122. "God didn't create metal so that man could make paper clips." — Harley Davidson
123. Like the best artists, riding a bike well is all emotion and just a touch of skill.
124. Fake bikers do it for the image. Real bikers do it for the sport. Be a real biker.
125. Always go full throttle.
126.
127. Motorcycle boots aren't made for walking.
128. Ride the twisty roads. You'll become a better rider faster.
129. You always know where you're going on the back of a motorcycle.
130. "Motorcycling is not a means of transport but an ideology, a nomadic way of life." ― Amit Reddy
131. Bikers know why dogs love to stick their heads out the car window.
---
Captions and Quotes On Bike Lovers
132. I need a bike lover/girlfriend/boyfriend/friend/partner.
133. Be my ride or die.
134. "There's definitely a tough and macho thing about a guy who rides a motorcycle. That's really sexy." — Marisa Miller
135. Sometimes, your knight in shining armor is a biker in dirty leathers.
136. My Prince Charming rides two-wheels, not a horse.
137.
138. Hold me tight and don't let go… unless you want to fall off my bike.
139. I'm looking for someone who also loves the feel of the wind in their hair. Is that you?
140. I'm head over heels for… my bike.
141. I can't imagine my life without my bike(r).
142. "Love is the feeling you get when you like something as much as your motorcycle." — Hunter S. Thompson
---
Motorcycle Captions to Make Your Followers Chuckle
143. You haven't lived until you get a bug in the face when riding a speeding Harley.
144. You think that's an oil leak? That's my motorcycle marking its territory.
145. You're not a real biker until you recognize your friend's bikes by the sound they make.
146. I ride motorcycles because I'm too lazy to peddle—and I'm proud of it.
147.
148. Then they said, "Why do you need one more bike?"
149. Life is too short to be sitting in traffic.
Think bikers are mean? You're probably just a car driver that got in their way.
150. I'm not snoring. I'm dreaming that I'm a motorbike.
151. I don't need to go to the doctor. The cure is always a motorcycle ride.
152. My boyfriend/girlfriend/husband/wife/partner told me to choose them or the motorcycle. I miss them sometimes.
---
Killer Biking Captions for Instagram: Inspiration and Ideas
Anyone who runs a popular cycling Instagram page or must-read motorcycle Facebook group knows how hard it is to keep coming up with captions for your photos.
This list is designed to help those stuck for ideas—whether you prefer cycling puns or cool motorbike quotes.
Did you like this article about biking captions for Instagram? Then, check out this other one about cultivating a wealthy mindset.