Have you ever wondered how famous artists would have captioned their work if social media existed hundreds of years ago?
Perhaps Leonardo da Vinci would have dropped a few hints about the mysterious subject of his Mona Lisa portrait. Or maybe Vincent Van Gogh would have offered a glimpse inside his mind as he painted the unmistakable swirls of The Starry Night.
These famous works of art speak for themselves, but what about your masterpieces? Whether you're sharing art lovers quotes to inspire others or you're trying to gain traction for your own art career, you need the best art captions to accompany your posts.
Ready to discover some sensational captions on art?
Here's your go-to list of 101 art captions for Instagram, Facebook, Etsy, and anywhere else your artwork appears online.
---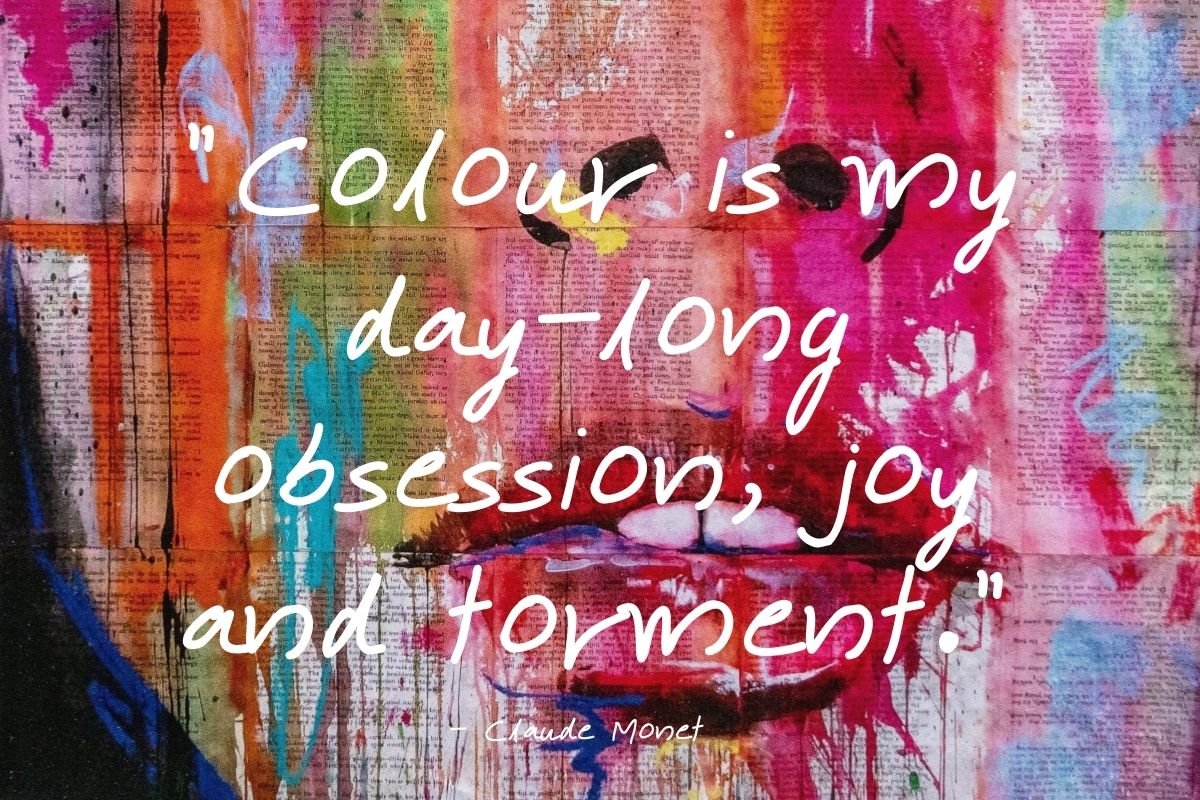 ---
Interested in captions for drawings and paintings? You might also like these…
---
Creative Art Captions
1. "Colour is my day-long obsession, joy and torment." — Claude Monet
2. "Art evokes the mystery without which the world would not exist." – René Magritte
3. "Design has to work. Art does not." — Donald Judd
4. "Use the creative process – singing, writing, art, dance, whatever – to get to know yourself better." – Catie Curtis
5. "Art should be something that liberates your soul, provokes the imagination and encourages people to go further." – Keith Haring
6. "Art is when you hear a knocking from your soul and you answer." — Terri Guillemets
7. "The artist is not a different kind of person, but every person is a different kind of artist." — Eric Gill
8. "Art is what happens when you dare to be who you really are." — Unknown
9. "The object of art is not to reproduce reality, but to create a reality of the same intensity." — Alberto Giacometti
10. "Why do two colours, put one next to the other, sing? Can one really explain this? No. Just as one can never learn how to paint." – Pablo Picasso
11.
12. "Color is a power which directly influences the soul." — Wassily Kandinsky
13. "A work of art is the trace of a magnificent struggle." — Robert Henri
14. "The artist is a receptacle for emotions that come from all over the place: from the sky, from the earth, from a scrap of paper, from a passing shape, from a spider's web." — Pablo Picasso
15. "Art is about relinquishing control of your emotions and being vulnerable and innocent." – K.D. Lang
16. "You are the artist of your life, don't give the paintbrush to anyone else." — Iva Ursano
17. "An artist's career always begins tomorrow." – James Whistler
18. "Anyone who says you can't see a thought simply doesn't know art." — W. Ann Reynolds
19. "If you understand a painting beforehand, you might as well not paint it." – Salvador Dalí
20. "There are painters who transform the sun into a yellow spot, but there are others who, thanks to their art and intelligence, transform a yellow spot into the sun."  — Pablo Picasso
Funny Captions About Art
21. "Artists are just children who refuse to put down their crayons." – Al Hirschfeld
22. "Less talk, more art." — Unknown
23. "Art should disturb the comfortable and comfort the disturbed." — Cesar A. Cruz
24. "I would never have taken up painting if women did not have breasts." – Pierre Auguste Renoir
25. "It's sad that we live in a world that doesn't value insanity." — Unknown
26. "Painting is just another way of keeping a diary." — Pablo Picasso
27. "Cut your ear off and you're a kook. Paint a picture of yourself with your ear cut off and you're an artist. Go figure." – Unknown
28. "Till death, we do art." — Unknown
29.
30. "The Earth without art is just eh." – Unknown
31. "Draw me like one of your French girls." — Rose in Titanic
32. "There's a fine line between genius and insanity. I have erased this line." – Oscar Levant
33. "It is not necessary for an artist to be crazy, but it helps." — Unknown
34. "They couldn't find the artist so they hung the picture." – Frank Zappa
35. "I just wanna make the world a better-looking place. If you don't like it, you can paint over it!" – Banksy
36. "I'm not performing miracles, I'm using up and wasting a lot of paint." – Claude Monet
37. "Art is the only way to run away without leaving home." — Twyla Tharp
38. "If art doesn't make us better, then what on earth is it for?" – Alice Walker
Memorable Artwork Captions
39. "The only power of expression is art." — Maithili Sharan Gupta
40. "If I were called upon to define briefly the word Art, I should call it the reproduction of what the senses perceive in nature, seen through the veil of the soul." — Paul Cezanne
41. "Art is a lie that makes us realize the truth, at least the truth that is given us to understand." — Pablo Picasso
42. "Art is longing. You never arrive but you keep going in the hope that you will." — Anselm Kiefer
43. "You don't take a photograph, you make it." – Ansel Adams
44. "The job of the artist is always to deepen the mystery." — Francis Bacon
45. "Art is a line around your thoughts." – Gustav Klimt
46. "Life beats down and crushes the soul and art reminds you that you have one." — Stella Adler
47. "A work of art which did not begin in emotion is not art." — Paul Cezanne
48. "Art is the stored honey of the human soul." — Theodore Dreiser
49. "A work of art is above all an adventure of the mind." – Eugene Ionesco
50. "The aim of art is to represent not the outward appearance of things, but their inward significance." — Aristotle
51.
52. "An artist never really finishes his work; he merely abandons it." — Paul Valery
53. "What moves men of genius, or rather what inspires their work, is not new ideas, but their obsession with the idea that what has already been said is still not enough." — Eugene Delacroix
54. "The only time I feel alive is when I'm painting." — Vincent Van Gogh
55. "Art is as natural as sunshine and as vital as nourishment." — MaryAnn F. Kohl
56. "Great design is achieved not when there is nothing left to add, but when there is nothing left to take away." – De Saint Exupery
57. "Good artists copy, great artists steal." – Pablo Picasso
58. "You can't use up creativity. The more you use, the more you have." — Maya Angelou
59. "The fact I myself do not understand what my paintings mean while I am painting them does not imply that they are meaningless." – Salvador Dalí
60. "The true painter must be able, with the most usual things, to have the most unusual ideas." — Salvador Dali
61. "An artist is a sort of emotional or spiritual historian. His role is to make you realize the doom and glory of knowing who you are and what you are." – James Baldwin
62. "A work of art has no importance whatever to society. It is only important to the individual." – Vladimir Nabokov
63. "The artist must train not only his eye but also his soul." — Wassily Kandinsky
The Best Captions for Paintings
64. "Life obliges me to do something, so I paint." — Rene Magritte
65. "Painting is poetry that is seen rather than felt, and poetry is a painting that is felt rather than seen." — Leonardo da Vinci
66. "It is not the language of painters but the language of nature which one should listen to, the feeling for the things themselves, for reality, is more important than the feeling for pictures." — Vincent Van Gogh
67. "I found I could say things with colour and shapes that I couldn't say any other way–things I had no words for." — Georgia O'Keeffe
68. "Painting is not done to decorate apartments. It is an instrument of war." – Pablo Picasso
69. "Paint is only wasted when it stays in the tube." — Unknown
70. "To send light into the darkness of men's hearts – such is the duty of the artist." — Schumann
71. "The holy grail is to spend less time making the picture than it takes people to look at it." — Banksy
72. "Every artist dips his brush in his own soul, and paints his own nature into his pictures." — Henry Ward Beecher
73.
74. "In art, there is only one thing that counts: the thing you can't explain." — Georges Braque
75. "I would like to paint the way a bird sings." — Claude Monet
76. "Art is anything you can get away with." – Andy Warhol
77. "If people would just look at the paintings, I don't think they would have any trouble enjoying them. It's like looking at a bed of flowers, you don't tear your hair out over what it means." – Jackson Pollock
78. "As practice makes perfect, I cannot but make progress. Each drawing one makes, each study one paints, is a step forward." — Vincent van Gogh
79. "Painting is easy when you don't know how, but very difficult when you do." — Edgar Degas
80. "My paintings are not about what is seen. They are about what is known forever in the mind." – Agnes Martin
81. "Have no fear of perfection, you'll never reach it." – Salvador Dalí
82. "Don't think about making art, just get it done. Let everyone else decide if it's good or bad, whether they love it or hate it. While they are deciding, make even more art." — Andy Warhol
Inspiring Art Lovers Quotes
83. "To be an artist is to believe in life." — Henry Moore
84. "Art is a collaboration between God and the artist, and the less the artist does the better." — Andre Gide
85. "Art must be an expression of love or it is nothing." — Marc Chagall
86. "A true artist is not one who is inspired, but one who inspires others." — Salvador Dali
87. "Creativity is allowing yourself to make mistakes. Art is knowing which ones to keep." — Scott Adams
88. "I make art to show my soul I am listening." — Pat Wiederspan Jones
89. "Art flourishes where there is a sense of adventure." – Alfred North Whitehead
90. "The artist's world is limitless. It can be found anywhere, far from where he lives or a few feet away. It is always on his doorstep." — Paul Strand
91. "The most seductive thing about art is the personality of the artist himself." — Paul Cezanne
92.
93. "Art is the highest form of hope." — Gerhard Richter
94. "Creativity takes courage." – Henri Matisse
95. "Good art is not what it looks like but what it does to us." — Roy Adzak
96. "Friendship is unnecessary, like philosophy, like art…it has no survival value. Rather, it's one of those things that give value to survival." – C.S. Lewis
97. "The artist sees what others only catch a glimpse of." — Leonardo da Vinci
98. "Art is the most intense mode of individualism that the world has known." — Oscar Wilde
99. "Every artist was first an amateur." – Ralph Waldo Emerson
100. "Art knows no prejudice, art knows no boundaries, art doesn't really have a judgement in its purest form." – K.D. Lang
101. "Making bad art is better than making no art. Go make something." — Unknown
---
The Best Art Captions for Instagram & Beyond
Your artwork speaks for itself, but that doesn't mean you can't include some thought-provoking art captions to go along with it!
Bookmark this list of art, drawing, and painting captions so you'll always have fresh ideas to choose from. With a little bit of time and effort, you'll get the exposure you're looking for on Instagram, Facebook, and other social media channels.
Now that you know the best captions about art, what's next? There's plenty more to explore on our site, so stay right here and keep browsing!